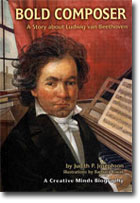 Ludwig van Beethoven: Bold Composer
by Judith P. Josephson
(Lerner Publishing Group: Millbrook Press, 2007)
As a child growing up in 18th century Germany, Ludwig van Beethoven heard music in the squeak of the iron window handles and plunked out melodies on the clavichord, an early keyboard instrument. He loved to daydream, and his hair and clothes were usually a mess. That didn't seem to matter. Even at a young age, his passion for music and his ability to play the piano and compose music amazed people. During his lifetime, Beethoven wrote some of the most powerful music ever written. When he was a young man of twenty-eight, he began to hear noises no one else could hear. As he grew older, it became harder and harder for him to hear. He tried all sorts of funny-looking ear trumpets and cures for deafness, including jumping into the ice-cold Danube River. Finally, he became totally deaf. Even though he could not hear the music himself, he continued to write symphonies, sonatas, and other music, giving the world beautiful pieces that are still praised and enjoyed today.
This "Creative Minds" biography has sources and web sites for learning more about Ludwig van Beethoven, a bold and daring composer.

Take a look inside the book:
Ludwig van Beethoven: Bold Composer

To test what you know about Beethoven:
Beethoven Quiz: Music, Always Music.

Just for Kids activities for Ludwig van Beethoven: Bold Composer

Other websites to learn more about Beethoven:

Winner, San Diego Book Awards, 2007.
Ludwig van Beethoven: Bold Composer
"Without a doubt, the author of this biography presents her readers with a thorough and sympathetic portrait of Beethoven. We come to appreciate not only how talented and admired Beethoven was, but also how lonely he was and how hard it was for him to lose his hearing so early in his life."
— Through the Looking Glass Children's Book Review, December 2007
Available in hardcover, paperback, or e-book formats
Purchase Bold Composer online at Amazon.com
or directly from the publisher at LernerBooks.com.