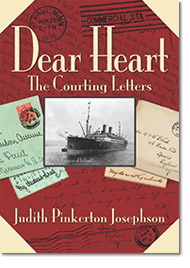 Dear Heart:
The Courting Letters
by Judith P. Josephson
In 2010 young teacher Lisa Anderson discovers a box labeled "Courting Letters." Untying the beribboned packets, she finds loving epistles, penned a century before. In 1907 in Ipswich, England, the authors of the letters, Gertie and Fred, meet and begin a friendship. Just as it begins to deepen into something more, financial problems force Fred and his family to emigrate to America in search of a better life. Hopes for the budding relationship appear crushed—or so it seems. Months go by before Fred begins to woo Gertie from afar.
As Lisa starts to read, the couple's love story unfolds, a dance of words fraught by obstacles, not the least of which is the Atlantic Ocean separating the pair, which delays each letter sent for ten days by ship. Gertie and Fred's long-ago story enlightens and inspires Lisa as her own modern day search for love continues, and her life changes direction in a way she never expected.
Dear Heart: The Courting Letters is a tapestry woven of two intersecting love stories, one fictional and modern and the other based on Gertie's and Fred's real-life courting letters. Their stories remind us that while change is inevitable in life and in love, some universals apply.
Video: Dear Heart Trailer
Video: Judith Discusses Writing Dear Heart
Dear Heart Blog
Read my Dear Heart blog post on eFrog Press:
Purchase Dear Heart online at Amazon.com


"An engaging and positively riveting read from cover to cover, and enhanced with the numerous black-and-white illustrations by Kirsten Elise Josephson, Dear Heart: The Courting Letters by Judith Pinkerton Josephson will prove to be a unique and enduringly popular addition to community library collections."
— Julie Summers, Midwest Book Review
"I absolutely adored this book, a gripping page turner. Terrific!"
— Lu Duc, NetGalley
"Lovely book, I was surprised to find it came from a real story, but it was just lovely."
— Leeanne Wheeler, NetGalley
"The author did a stunning job of weaving together the turn-of-the-century, actual love story between Fred and Gertie, and the fictional, modern day story of a young woman named Lisa. This would make a wonderful book club selection or gift, as well as a wonderful addition to your own bookshelf. A must-have for all who love a beautifully written, heartfelt story for the ages."
— Kathleen
"I loved this beautifully written and cleverly structured mix of modern romance and turn-of-the-20th-century courtship. This book is a wonderful example of imagination and history, mingled as art."
— Constant Reader West
"Treat yourself to this charming window into the past of civility and loving exchanges via real letters (and interwoven narrative) between those parted and then reunited by an ocean. Gertie in Ipswich, England and Fred in St. Paul, Minnesota delicately deepen their relationship through beautiful prose and even a dash of poetry via correspondence taking two weeks to reach each other. The pictures and incredible graphics are a total delight. Even the colors reflect the gentility of the era."
— Ann Lewis
"Inspired storytelling! Josephson traces two love stories, 100 years apart, with the same skill and authenticity that has made her an award-winning biographer. The beautiful graphics easily transported me to a very different time."
— Minnesota Reader
"The author expertly contrasted how relationships progressed in 1900 versus 2010, without isolating either relationship. As a reader, it was fascinating to be reminded how different Edwardian era courting rules were versus our modern Internet dating. The courting letters are beautifully written and made me long for the lost art of letter writing. I loved feeling like I was back in turn of the last century England one chapter, only to be transported back to the present where Lisa is discovering how her past can shape her future."
— Illinois Teacher