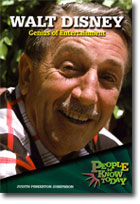 Walt Disney: Genius of Entertainment
by Judith P. Josephson
Enslow Publishers, Inc., 2006





As a young man, Walt Disney loved art and drew cartoons, but some say his career began when he invented the world's favorite mouse, Mickey. In Hollywood, he and his talented staff dreamed up loveable, unsophisticated characters, like Mickey Mouse, Goofy, Pluto, and Donald Duck. During Walt's lifetime, his studio won thirty-two Oscars for movies with story lines that made people laugh and unforgettable songs still sung (and whistled) today. Walt's drive, curiosity, and love and respect for children led him to push constantly toward new frontiers in family fun, magical worlds, and entertainment. His legacy of beloved characters, theme parks, and movies lives on. It continues to delight children and adults of ages.


Take a Sneak Peek inside this book.

Test what you know about Walt Disney. Try our Walt Disney Quiz.

Just for Kids activities for Walt Disney: Genius of Entertainment

Other websites to learn more about Walt Disney:


Winner, San Diego Book Awards, 2007.