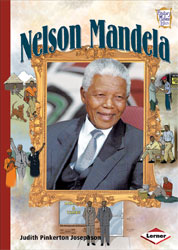 Nelson Mandela
by Judith P. Josephson
(Lerner Publications, 2009)
In 1918, the year Nelson Mandela was bon, unjust laws limited the rights of black people in South Africa. When he grew up, Nelson became their voice. For his part in the freedom struggle, he spent twenty-seven years in a lonely island prison.

After his release, Nelson Mandela became South Africa's first black president. Son of a chief. Fighter for freedom. Father of a changed nation. Read all about his story.
Other websites to learn more about Nelson Mandela:
Purchase this book online at Amazon.com
or directly from the publisher at LernerBooks.com.