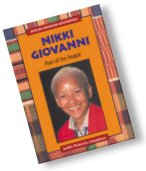 Nikki Giovanni: Poet of the People
Judith P. Josephson
Enslow Publishers, Inc., 2003





A spellbound crowd packs the auditorium. The audience whistles and stomps with enthusiasm. Nikki Giovanni has come to talk about poetry. Giovanni is one of America's most popular modern poets, having published more than a dozen volumes of poetry for adults, six books for children, and several compact-disk readings of her poems.With poetry is a connection, her work reaches out across age, gender, and race. This vividly drawn life story, based on interviews with Giovanni and those who know her best, is rich with Giovanni's own words and excerpts from her poetry.


Take a Sneak Peek inside this book.

Websites to learn more about Nikki Giovanni.
Nikki Giovanni: Poet of the People
Nikki Giovanni: Poet of the People chronicles the life of the poet, author, and activist from her childhood in Tennessee to the present day . . . Josephson's narrative is enlivened by a sampling of Giovanni's lyrical work that will provide readers with a sense of her style and philosophy . . . A concisely written work."
— School Library Journal
"Enslow's African-American biographies: " . . . books about humanitarian and educator Shabazz, the widow of Malcolm X, and author Giovanni, several of whose poems are included in the text, are particularly welcome . . . they are also well-researched and thorough in their coverage."
— The Horn Book Guide
"Josephson's biography of Giovanni uses excerpts from her poetry and prose to help tell the story of her life. . . . The author gives equal coverage to the poet's personal and professional life, talking about the son she raised successfully as a single mother and her battle against lung cancer, as well as her many volumes of poetry, her children's books, her teaching, and her tireless political activism. . . . chronology, chapter notes, a bibliography, and an index."
— Multicultural Review

2001 NAACP Image award nomination: children's literature category, Notable Social Studies Trade Books for Young People, 2001.