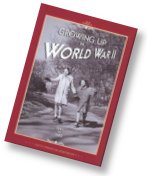 Growing Up in World War II
by Judith P. Josephson
Lerner Publications, 2003





"I cannot imagine a day that I spent from the time I was 14 until I was 19, that I wasn't aware of the war . . . it had an impact on everything."

—Nancy Potter, who lived on a farm
in eastern Connecticut and attended
Tufts University in Medford, MA during WWII




In the midst of the harsh realities of wartime, the children of World War II drew together to work, play, and support each other. Faced with the possible loss of fathers, brothers, uncles, and friends, children like Sammy Berman and John Smith whose fathers were fighting in Europe, did their best to help out. Japanese American children like Louise Ogawa were sent to internment camps. No matter what their age or gender, many children helped by working, saving money to buy war bonds, conserving and collecting things like rubber and tin, planting victory gardens, and learning to do without things like sugar, butter, and new shoes. Through diaries, letters, songs, interviews, photos, and other sources, discover what life was like during World War II through the true stories of actual children who lived through this time.


Take a Sneak Peek inside this book.

Just for Kids activities for Growing Up in World War II

Websites to learn more about WWII:

Winner, San Diego Book Awards, "Juvenile History"
Growing Up in World War II: 1941-1945
"Books in the attractive Our America Series give today's children an opportunity to understand what childhood and adolescence were like for America's youth in the past. Each book focuses on several children describing various aspects of their lives. In New Century, one girl is growing up on a southern plantation; another child is Kermit, the son of Teddy Roosevelt. . . . the writing is lively as Josephson gives a general introduction to the times, including such topics as work, play, and education. World War II follows a similar pattern, but the emphasis is on what it was like to live through the war years. Both books feature evocative black-and-white photographs. The design is pleasing . . . Footnotes, a selected bibliography bolstered by a list of books and Web sites, and a two-page spread of follow-up activities round out each book."
— Booklist