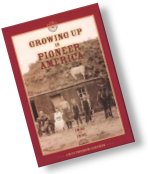 Growing Up in Pioneer America
by Judith P. Josephson
Lerner Publications, 2003




"From the Missouri River to where the road turned to California, we were never out of sight of long trains of covered wagons."

- Virginia Watson, Year 1849, age eight,
traveling to Oregon with her family




Westward Ho!" was a cry heard by many children like eight-year-olds Virginia Watson and Jesse Applegate in the 1800s. As thousands of pioneers moved west to settle far from the safety of cities, their children moved with them. Driving cattle, collecting buffalo chips, cooking, mending, gathering water and food, and even burying their own parents-children such as Elizabeth Pulsipher and Mary Goble bravely faced life on the wagon trains, and at the end of the trail. Through diaries, letters, songs, photos, and other sources, discover what life was like in pioneer America through the true stories of children who actually lived during this momentous time.


Play Pioneer Days Games : Match names, expressions, songs, events, and other facts from the pioneer days during the westward migration with terms that describe them.

Growing Up in Pioneer America chosen for 2002 VOYA (Voice of Youth Advocates) Nonfiction Honor List

Our America Series:
Growing Up in Pioneer America:1800 to 1890
Take a Sneak Peek inside this book.

Just for Kids activities for Growing Up in Pioneer America

Other websites to learn more about the pioneers:

Runner-Up, San Diego Book Awards, "Juvenile History"
Growing Up in Pioneer America: 1800-1890
" . . . describes many aspects of life in the 19th century as experienced by boys and girls from many levels of society and backgrounds. Quotes and excerpts from diaries, letters, and memoirs written by young people, their family members, and people who knew them give modern readers insight into crossing the western plains, farming the prairie. . . .Sidebars offer additional information on topics such as "Orphan Trains" . . . numerous sepia photographs . . .against mostly pastel pages add to the attractiveness . . . suggested activities and extensive source notes. Useful primary source material in an appealing format."
— School Library Journal